Brisksaber
was a free-to-play game released for Android and iOS.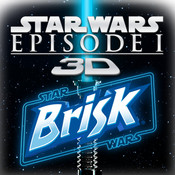 Background
Edit
The game was mainly created as an advertising promotion for Brisk, a brand of Iced Tea, and the 3D release of Star Wars Episode I: The Phantom Menace.
The game mixes 2D and 3D elements in order to create a varied environment. The game puts the player battling a character from the new Star Wars Film. New Characters are unlocked by obtaining codes from Brisk bottles.
Ad blocker interference detected!
Wikia is a free-to-use site that makes money from advertising. We have a modified experience for viewers using ad blockers

Wikia is not accessible if you've made further modifications. Remove the custom ad blocker rule(s) and the page will load as expected.