Call of Duty: Combined Forces
was to be the sequel to
Call of Duty: Finest Hour
, but was turned down by Activision.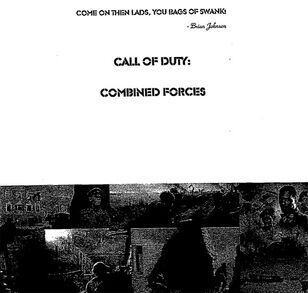 It was going to be developed by Spark Unlimited.
Background
Edit
Spark Unlimited, upon completing Finest Hour, pitched the Combined Forces proposal to activision. Because the proposal was expected to cost Ten Million Dollars, and due to the Six Million Dollar budget exceedment of Finest Hour. The proposal also seemed more like an expansion pack as well, furthering the reasons Activision had to decline it. Activision declined the proposal, and ended their contract with Spark Unlimited.
The game would of most likely been a First Person Shooter.
The game appeared to have been set in World War Two, with an American, British and Soviet Campaign.
Ad blocker interference detected!
Wikia is a free-to-use site that makes money from advertising. We have a modified experience for viewers using ad blockers

Wikia is not accessible if you've made further modifications. Remove the custom ad blocker rule(s) and the page will load as expected.