European War 4: Napoleon
was released in 2014 by Easytech. The game was released for the PC, iOS and on Windows Phones. The game is set during the French Revoloutionary Wars and the Napoleonic Wars. The conquest mode features levels set in America as well.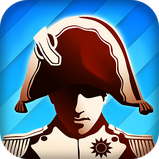 The player controls an army of their afflitiated nation. In Campaign Mode, the player must capture certain cities, and capture enemy territory. In conquest mode, the player must defeat all enemy nations on the map and conquer all territory. The player can buy various forms of infantry, artillery and cavalry to assist them.
List of Nations
Edit
| Flag | Nation | Europe 1798 | Europe 1806 | Europe 1809 | Europe 1815 | America 1775 | America 1812 |
| --- | --- | --- | --- | --- | --- | --- | --- |
| | United Kingdom | ✔ | ✔ | ✔ | ✔ | ✔ | ✔ |
| | France | ✔ | ✔ | ✔ | ✔ | ✔ | ✔ |
| | Russia | ✔ | ✔ | ✔ | ✔ | ✔ | ✔ |
| | Prussia | ✔ | ✔ | ✔ | ✔ | ✘ | ✘ |
| | Spain | ✔ | ✔ | ✔ | ✔ | ✔ | ✔ |
| | Austria | ✘ | ✔ | ✔ | ✔ | ✘ | ✘ |
| | Ottoman | ✔ | ✔ | ✔ | ✔ | ✘ | ✘ |
| | Nederlanden | ✔ | ✔ | ✔ | ✘ | ✔ | ✔ |
| | Denmark | ✔ | ✔ | ✔ | ✔ | ✘ | ✘ |
| | Sweden | ✔ | ✔ | ✔ | ✔ | ✘ | ✘ |
| | Portugal | ✔ | ✔ | ✔ | ✘ | ✔ | ✘ |
| | Sardinia | ✔ | ✔ | ✔ | ✔ | ✘ | ✘ |
| | Italy | ✔ | ✔ | ✔ | ✔ | ✘ | ✘ |
| | Switzerland | ✔ | ✔ | ✔ | ✔ | ✘ | ✘ |
| | Algeria | ✔ | ✔ | ✔ | ✔ | ✘ | ✘ |
| | Tunisia | ✔ | ✔ | ✔ | ✔ | ✘ | ✘ |
| | Naples | ✔ | ✔ | ✔ | ✔ | ✘ | ✘ |
| | Morocco | ✔ | ✔ | ✔ | ✘ | ✘ | ✘ |
| | Poland | ✔ | ✘ | ✔ | ✘ | ✔ | ✘ |
| | Saxony | ✘ | ✔ | ✘ | ✘ | ✔ | ✘ |
| | Two Sicilies | ✘ | ✔ | ✔ | ✘ | ✘ | ✘ |
| | United States | ✘ | ✘ | ✘ | ✘ | ✔ | ✔ |
| | Rhine | ✘ | ✔ | ✔ | ✘ | ✘ | ✘ |
| | Indian | ✘ | ✘ | ✘ | ✘ | ✔ | ✔ |
| | Hessen | ✘ | ✘ | ✘ | ✘ | ✔ | ✔ |
| | Wallachia | ✘ | ✘ | ✔ | ✔ | ✘ | ✘ |
| | Moldavia | ✘ | ✘ | ✔ | ✔ | ✘ | ✘ |
| | Serbia | ✘ | ✘ | ✔ | ✔ | ✘ | ✘ |
| | Brunswick | ✘ | ✘ | ✘ | ✘ | ✔ | ✘ |
| | Holy Roman Empire | ✔ | ✘ | ✘ | ✘ | ✘ | ✘ |
| | Bavaria | ✘ | ✘ | ✘ | ✔ | ✘ | ✘ |
Unit Classes
Edit
Infantry
Edit
Militia
Line Infantry
Light Infantry
Grenadier
Guards
Machine Gun
Artillery
Edit
Light Artillery
Heavy Artillery
Siege Artillery
Rocket
Light Cavalry
Heavy Cavalry
Guards Cavalry
Armored Car
The appearance of Armored Cars in the game is anachronistic for a game set from 1798-1815, as the first modern Armored Cars were invented in 1898
Southampton is misspelled as Southapton