FIFA Soccer 96
was released in 1995 and was developed by Extended Play Productions.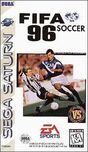 Background
Edit
The game was the sequel to FIFA Soccer 95. Unlike its predecessor, it was released on multiple platforms like the original game. Probe Entertainment made versions of the game for the SNES, Game Boy and Game Gear Platforms. The game now had 3D Graphics.
The game is an Association Football simulator, and is viewed at an isometric angle. The aim is to score as many goals as possible before the match ends. The game has real players, positions, rankings, and also Transfers and team customisation tools.
Ad blocker interference detected!
Wikia is a free-to-use site that makes money from advertising. We have a modified experience for viewers using ad blockers

Wikia is not accessible if you've made further modifications. Remove the custom ad blocker rule(s) and the page will load as expected.