Fistful of Frags
was released in 2007 by the FoF Dev Team. It was released originally on OS X and Linux, but was later released in 2014 on Steam. The game is a Mod of
Half-Life 2
, but does not require the original game to play.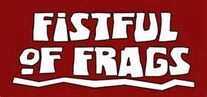 The games name and logo are a pun on one of Sergio Leone's Western films named
Fistful of Dollars
.
The player plays as one of the four factions (Desperados, Vigilantes, Rangers or Banditos), and must kill the opposing players. The player can open boxes to obtain better weaponry, drink whiskey to recover health (Though with a temporary haze effect) and destroy gunpowder barrels to explode parts of the map.
Ad blocker interference detected!
Wikia is a free-to-use site that makes money from advertising. We have a modified experience for viewers using ad blockers

Wikia is not accessible if you've made further modifications. Remove the custom ad blocker rule(s) and the page will load as expected.