Flight Unlimited
was released in 1995 by Looking Glass Studios. It was released for the PC and DOS. It was made to rival Microsoft Flight Simulator 5. Much of the coding was done by Seamus Blackley.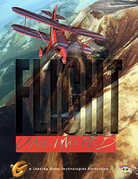 It is a 3D Flight Simulator Game. It is possible to choose between a first and third person view. The game is focused on performing aerobatics and other complex flight maneuvers.
Ad blocker interference detected!
Wikia is a free-to-use site that makes money from advertising. We have a modified experience for viewers using ad blockers

Wikia is not accessible if you've made further modifications. Remove the custom ad blocker rule(s) and the page will load as expected.