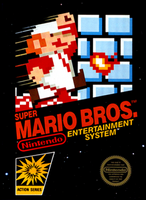 Super Mario Bros. is a game published in 1985 for the Famicom.
The game is a 2D Side Scroller Platformer. You play as Mario, and if the second player in 2 Player mode, Luigi. The Player traverses through Worlds by reaching the goal, and defeating Bosse's at the end of each one. The player can jump and hit blocks to gain Coin's or Powerup's.
Bowser has kidnapped Princess Toadstool from the Mushroom Kingdom, so Mario and Luigi set off to rescue her by traversing all of the world's castle's. Eventually, after finding Bowser's castle, mario fights him, and wins after knocking him into the fire. Mario then takes Princess Toadstool back to her castle.
Vs. Super Mario Bros.
Edit
Vs. Super Mario Bros. is a Port created for the Nintendo Vs. Unisystem. The levels are slightly different to the Original Version, and some powerups were ommitted, making this version harder.
All Night Nippon Super Mario Bros.
Edit

All Night Nippon Super Mario Bros.
is a remake based on the All Night Nippon Radio Station in Japan. It is very rare, and was only released in Japan at a show in 1986. It is the same, but featues are replaced with equivelants from All Night Nippon.
Super Mario Bros. Special
Edit
Super Mario Bros. Special
was released for the NEC PC-8801 by Hudson

Soft. It is similar to the original, but has different layouts and extra enemies from Mario Bros. and Donkey Kong, and is faster. It was only released in South Korea and Japan.
| Action | How to perform |
| --- | --- |
| Jump | |
| Dash | |
| Walk Left | |
| Walk Right | |
| Duck | |